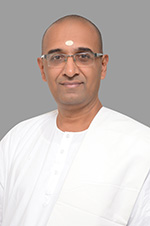 Br. Prasanna Swaroopa
Former IT professional and spiritual seeker
Br. Prasanna Swaroopa began his career in the IT industry serving It in various capacities, including software engineering, design, project management and general management. After having devoted 14 years to it, he exited the IT profession to explore and discover what lies beyond the usual avenues of employment. He then became a disciple of Swami Bhoomananda Tirtha and spent 12 years in Narayanashrama Tapovanam (an ashram in Kerala). This path of self-discovery enabled him to understand and realize the intricacies of the mind and their application to everyday life situations.
In the past, during his association with the Foundation for Restoration of National Values (FRNV), he was engaged in projects relating to reforms with the aim of creating a value based society.
As a spiritual seeker, he is deeply engaged in the study of scriptures such as the Bhagavad Gita, the Upanishads and the works of the great philosopher–saint Adi Shankara. He devotes his time sharing his experience with others for exploring the path to well-being, excellence and creativity.
His workshops and writing emanate from the firm conviction that spiritual wisdom and values are a great source of strength to individuals in order to achieve happiness and personal fulfilment, and at the same time success in life. He is an alumnus of the Indian Institute of Technology, Delhi.