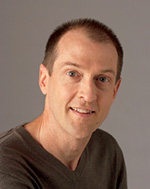 Timothy McCall
Board-certified internist
Timothy McCall
, MD, is a board-certified internist and the author of two books, Examining Your Doctor: A Patient's Guide to Avoiding Harmful Medical Care (Citadel Press) and Yoga as Medicine: The Yogic Prescription for Health and Healing (Bantam Books). He practiced medicine for more than 10 years in the Boston area before devoting himself full-time to investigating and teaching yoga therapy. He is the Founder/Director of Yoga as MedicineSM Seminars and Teacher Trainings and the Co-Director of the Simply Yoga InstituteSM for Yoga Therapy and Holistic Health, in Summit, New Jersey, near Manhattan.
Timothy has traveled extensively, studying with many of the world's leading yoga teachers and yoga therapists including BKS Iyengar and TKV Desikachar. His main teachers have been Patricia Walden, Rod Stryker, and Donald Moyer. He has practiced yoga and meditation from various traditions for over 20 years and Tantra for more than a decade. Since 2005, he has studied with a traditional ayurvedic doctor, Chandukutty Vaidyar, and has spent more than a year at his clinic in Kerala, India.
McCall's articles have appeared in dozens of publications, including the New England Journal of Medicine, JAMA, the Los Angeles Times, The Nation, Redbook (where he was a contributing editor), the Philadelphia Inquirer, and the Boston Globe. His column appeared monthly in the newsletter Bottom Line Health between 1995 and 2003, and from 1996 to 2001 his medical commentaries were featured on the public radio program Marketplace. In 2004–5 he was a scholar-in-residence at the Kripalu Center for Yoga & Health in Stockbridge, Massachusetts, and since 2002 he has been the medical editor of Yoga Journal. He has given presentations at medical schools, the NIH, and numerous workshops, and keynote addresses at conferences sponsored by Yoga Journal, the International Association of Yoga Therapists, and the Smithsonian Institute. He teaches yoga therapy seminars and teacher trainings in Summit, New Jersey, and worldwide.