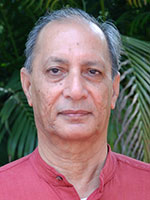 Sharad Sarin
Professor, Marketing and Strategic Management, XLRI, Jamshedpur
Sharad Sarin is Professor of Marketing and Strategic Management, XLRI, Jamshedpur, India. He has been associated with this institution as a faculty member since 1976 and has been the Dean of XLRI from 1984 to 1988. Professor Sarin has been a visiting faculty to the Indian Institute of Management, Ahmedabad, the University of Rhode Island, Kingston, USA, the Colorado University at Boulder, USA and the Helsinki School of Economics, Finland. He was on the Board of XLRI (1993–2004) and Mudra Institute of Communications (1991–2010). Since 2000, he in on the Board of Tata Refractories Ltd.

For the past three decades, Professor Sarin has been involved in several consultancy assignments including marketing studies for a huge number of Indian and overseas companies like Kirloskar Oil Engines Ltd; Elgi Equipments Ltd; Tega Industries; Tata Sponge Iron Ltd; Tinplate Co. Ltd; SAIL; Usha Mrtin Industries; Birla Technical Services; Gujarat Cooperative Milk Marketing Federation Limited (GCMMFL–AMUL); National Dairy Development Board; Grasim Industries; Tata Refractories; Tata Robins Frazer; Tata Steel, Century Textiles, Thailand; Indo Phil Textiles, Philippines; Milliken Carpets, USA; Nigerian Paper Mills, Nigeria; Orind International Limited, China, and so on.

He has also conducted training programmes for senior- and middle-level business executives for his various national and international clients.

His major areas of interest are competition and globalization, corporate planning, general marketing, industrial marketing, marketing's role in development, relationship marketing and strategic marketing.

In November 1995, Sharad Sarin was named amongst the top five teachers of business management in India by Business Standard, a leading business daily newspaper in India. He is widely known as the originator of the novel concept of 'Marketing Fair'. From 2001 to 2003, he was on the panel of judges for the Prime Minister's Trophy to select the best integrated steel plant in India.