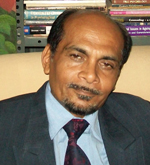 S. P. K. Jena
Professor, Department of Applied Psychology, University of Delhi
S. P. K. Jena
is Professor, Department of Applied Psychology, University of Delhi, and former Director, Institute of Behavioural Sciences, Gujarat Forensic Sciences University (now National Forensic Sciences University). He won the H. N. Murthy Oration Award for his contribution to Behavioural Medicine and Biofeedback. He graduated from the Centre of Advanced Study in Psychology (Bhubaneswar), trained in clinical psychology from National Institute of Mental Health and Neurosciences (Bengaluru) and attained a doctorate in Clinical Psychology from Central Institute of Psychiatry (Ranchi).
He has served as Lecturer in Clinical Psychology at National Institute for the Mentally Handicapped, Regional Training Centres (Kolkata and Patna), as Reader in Special Education at Institute of Advance Study in Education in Rohilkhand University (Bareilly), and as Reader in Applied Psychology at Guru Jambheshwar University (Hisar).
He has published several articles in national and international journals and has authored two books:
Perspectives in Mental Retardation and Behaviour Therapy: Techniques, Research and Applications
. He is the former editor of
Indian Journal of Clinical Psychology
.