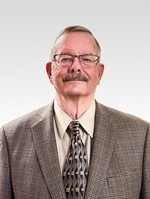 Lloyd Milton Goldsmith
Abilene Christian University
Learn more about Lloyd Goldsmith's PD offerings

Lloyd Milton Goldsmith is the director of the Principal Preparation Program and former chairperson for the Graduate Studies in Education Department at Abilene Christian University. He earned his EdD from Baylor University in the area of educational leadership. Dr. Goldsmith served public schools for 29 years as an elementary school teacher, assistant principal at a junior high school, and an elementary school principal.
Dr. Goldsmith led the migration of the graduate education program to an online format. He is currently involved in developing an online EdD in educational leadership. Dr. Goldsmith and a fellow chemistry professor, Dr. Kim Pamplin, are in their 14th year codirecting a program facilitating high school chemistry and biology teachers in developing effective instructional strategies and integrating technology within their lessons. Dr. Goldsmith has served on several state committees for the Texas Education Agency. He served two terms as president of the Texas Council of Professors of Educational Administration.
The research interests of Dr. Goldsmith relate to effective principal practices and practicum design. Dr. Goldsmith enjoys teaching in his church's inner-city outreach ministry, where he helps equip those living in poverty to better handle life's challenges.
Dr. Goldsmith has been married to his wife, Mary, for the 30 years and has three adult children – Abigail, Eleanor, and Nelson. Abigail and son-in-law Andrew Harmon are the parents of his two grandchildren Luke Walling Harmon and Hilary Grace Harmon. "Pa" enjoys being "Pa". Eleanor, has taught fourth grade for two years in Taft, Texas, where her father began his teaching career. His son Nelson recently graduated with a degree in accounting and finance from Abilene Christian University. Llola, his chocolate lab, is spoiled and walks the good doctor every morning.